Coronavirus Quarantine Projects
While we are currently facing an uncertain time worrying about Coronavirus and trying our best to stay healthy and sane with kiddos at home, it can be hard not to feel like a prisoner.
I can't say I'm the best at slowing down and taking a break. I'm an on the go kind of girl and like to have my hands in multiple projects. But with recent events and self-quarantine going on it has forced me to push the pause button.
Although remaining inside is a good way to protect yourself and others from the coronavirus, it could lead to boredom and stir craziness.
So, what's there to do while stuck inside? I've compiled 5 organizing projects you can do to help make your quarantined time more productive – and hopefully fun!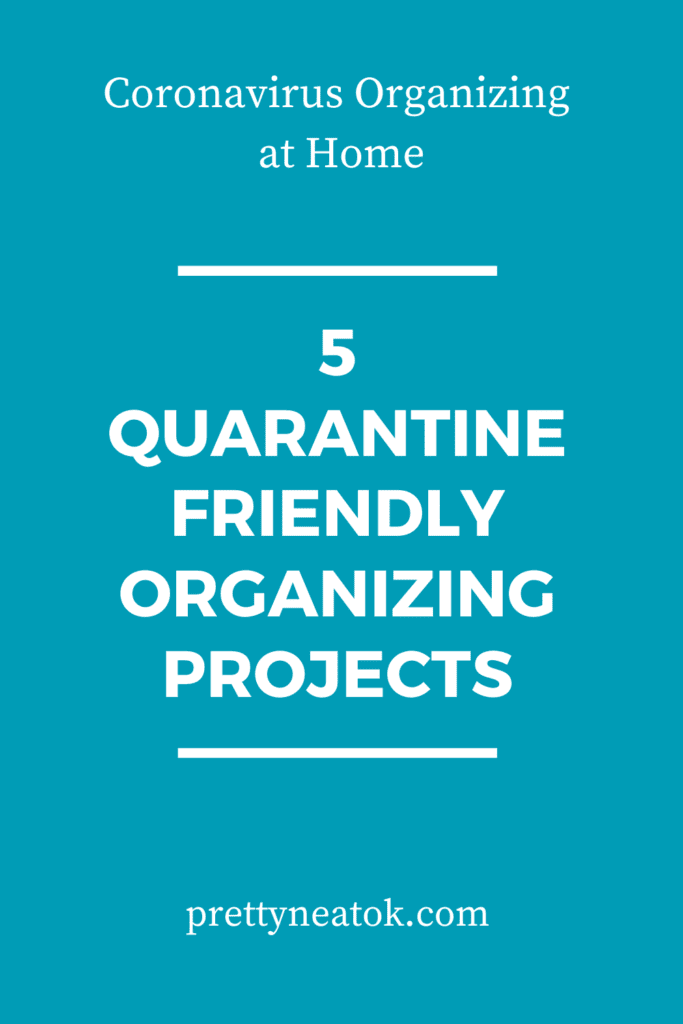 The Junk Drawer
Go from junk drawer to no more! This is a simple and fast project that can be done while stuck indoors. Here's what you do.
Start by taking every single item out of the drawer.
Create piles or groupings of similar items. Batteries should be together, pens, tools, nails & screws. Whatever it might be keep like with like.
Toss anything that you don't use or relocate items that don't belong there.
Wipe out the drawer and add small containers inside.
Put your categories back using the smaller bins to keep items from moving and getting mixed together.
Wah la! You now have an organized drawer
Closet Switch Out
With spring upon us, it's time to switch out winter clothes for the spring/summer wardrobe. Switching out your closet is the perfect time to go through any items you no longer use, love, or wear.
Here's what to do:
Take all items out or your closet.
Before packing up the winter wardrobe go through each item piece by piece and decide if it is a keep, toss, or donate.
Get out the spring/summer clothes and repeat the previous step. No point in adding clothing to your closet that you don't plan to wear this year. Save yourself time and space.
If you want to take things a step further try storing your clothes by style. Hang the tanks with tanks, cap sleeves with cap sleeves, dresses with dresses… you get the idea.
Color code. Within each category, color-code your clothing. You might find this silly but just try it once and I promise it will not only make the process of picking out an outfit easier, but it will also make putting away clothes even more efficient. ROYGBIV (Red, orange, yellow, green, blue, indigo, and violet)
Consider adding a bin or basket to your now organized closet so that anytime you find a clothing item you don't like, or just simply no longer want to wear, you can toss it in the bin. Once it gets full you know it is time to donate. (after coronavirus quarantine is over, of course)
Office Organization
Now is a great time to get your home office organized, especially if you must work from home right now. If you aren't used to working from home this can be somewhat of an adjustment. Distractions can be found everywhere, but with a little organization, you can minimize distractions and maximize your productivity.
Here's what to do:
Start with the paper. Paper can easily be one of the biggest clutter creators. Stacks and piles are easy to create but are hard to ignore. Take some time to go through it all and create piles like you would for clothes. Instead this time you will be deciding to file, shred, or toss.
Cords. Are the cords and wires behind your desk tangled and twisted? Unplug the cords if you can and re-route them so nothing gets tangled together. Use cable ties or Velcro to contain any extra cord length you aren't using.
Clear the desk. The less you have sitting on your desk the better. I'm all about office supplies but remember the main goal here is to create a space that allows you to easily focus. The fewer items in your line of vision means less chances of a wandering mind.
For even more tips and tricks about organizing your home office be sure to check out this post. Maybe your home office is mild on the clutter and you just want some inspiration on how to make it look more streamlined. Then head over to this post all about our amazing office transformation.
Car Organization
While the car might not be getting used this is a great time to get it organized and cleaned. If you cart around kids, I'm willing to bet your car could use some TLC.
Here's what to do:
You guessed it. Take everything out. Start with a clean slate so that nothing get's in the way of cleaning and sanitizing.
Vacuum seats and floors and wipe down all surfaces including door handles and the steering wheel.
Add back anything that belongs such as car seats, emergency kits, sunglasses, etc.
Take time to add in a designated trash bag or bin for easy, on the go trash removal.
Next time you get to leave the house, the car will feel like it just came back from a fresh interior detail.
Virtual Clutter
Virtual clutter is just as real and distracting as physical clutter. Maybe your inbox is over 100 or even 200 unread emails. Do you have a ton of apps on your phone that you don't even use?
Here's what to do:
Go through your email and unsubscribe from any newsletters or subscriptions you never read.
Organize your digital files. Delete any files you no longer need and create folders that you can drop files in to be able to find easily. For instance, create a financial file to drop any receipts or digital bank statements in. Add another folder for photos and whatever else you might need.
Organize the apps on your phone by color and uninstall the ones you never use that are just taking up space.
Coronavirus Quarantine Will End
While you might feel like these few days of quarantine have felt like years, take heart and know that this will eventually pass.
Take time now during this collective pause to gather your family and spend quality time together. Read a book. Rest. Catch up on a favorite show. Organize those spaces that you've been meaning to get to.
Whatever it might be try looking at this downtime in a positive light.
If you need help or some pro tips specifically for your space, be sure to contact us as we now offer Virtual Organizing. We'll coach you on the best way to arrange your space for functionally and aesthetics. Plus, we will make product recommendations that fit your style and needs.
Contact us here to schedule your virtual session.