Move Management
Moving to a new home is an exciting change, but it can also be stressful. You have to coordinate a lot of moving parts from decluttering and organizing, to packing and labeling. All of this can be difficult to manage on your own, especially if you have kids and a busy schedule.
Luckily, there are professional organizers that LOVE helping their clients move… which means saving you from the stress and hard work of managing and organizing your own move.
Below are five reasons why you should hire a professional organizer to handle your upcoming move.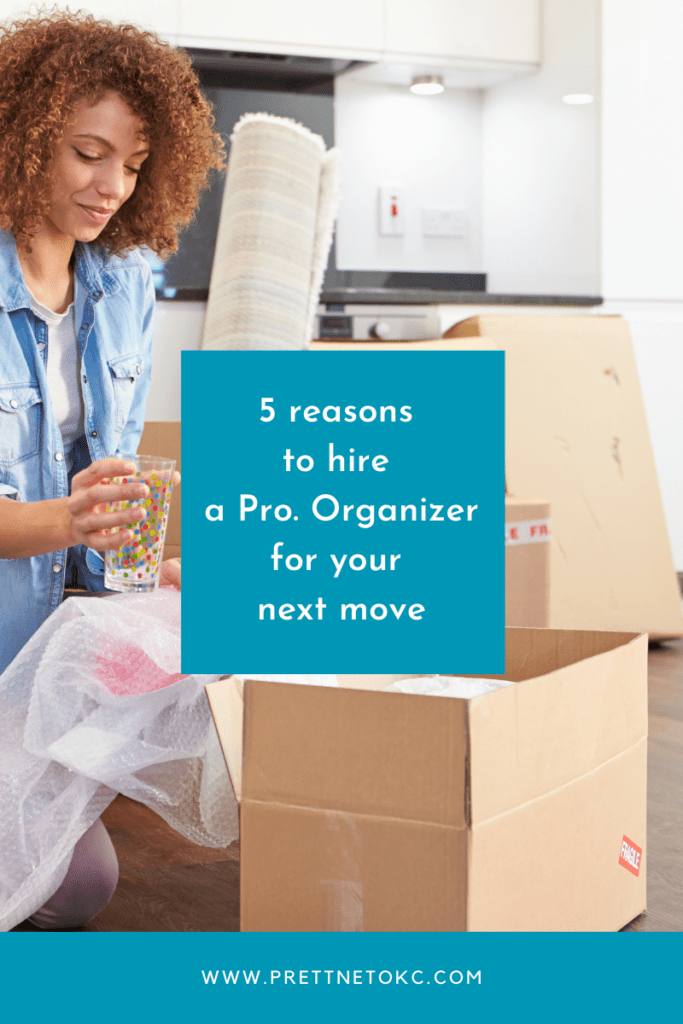 1.  Save time
You have plenty of move logistics to manage without organizing everything in your house. Going through all of your belongings to figure out what to take to the new home, or what to part with can be a time-consuming process. Having an organizer by your side who can help walk you through and make decisions is key.
Delegating this part of your move to a pro is a great way to free up your time so you can focus on the other important tasks only you can manage.
A professional organizer will also save you loads of time when settling into your new home. A pro is able to unpack, organize, and label everything upon arrival, at your new space, so your house can start feeling like a home in no time.
When you start organized, you stay organized!
2.  Declutter your space
When you move, you'll finally declutter every room in your house. That's no small task!
This process can not only leave you feeling overwhelmed, but you're typically left with piles of belongings destined for the donation bin. A professional organizer will make the process of sorting through your belongings much more organized and simple.
A pro will come into your space with a game plan ready to go. You'll know exactly how to tackle each room and be able to move from space to space quickly and efficiently.
At the end, you'll be left with paired down possessions and anything you don't want will be taken to the donation center by your organizer on your behalf. One more task that you can remove from your to-do list.
3.  Sell your house faster
Potential buyers don't want to see your clutter, and you don't want to pack up and move a bunch of items with you that you no longer need. It's vital that you take the time to do the work involved with decluttering and detaching from items that aren't serving you any longer.
Another added benefit of decluttering your space during a move is that it looks much more attractive to potential buyers. If your space currently feels cramped and messy, a professional organizer will come in and help you declutter, reorganize, and rearrange your space.
4.  Settle into your new home
Perhaps you're ready to move into your new house but you're exhausted from the moving process. Who wouldn't be?
A pro will help unpack and organize your belongings so your home starts and stays in order. It can be difficult to determine where to put everything in your new space.
Let an expert do the work. A professional organizer takes this process off your hands by figuring out the best and most appealing arrangement of your belongings.
Style is important, but function is the most important part.
5.  Enjoy the experience
Moving doesn't have to be stressful or daunting. Yup, I said it. You can actually enjoy the process when you have help!
With expert assistance your space will be decluttered, organized, labeled, and unpacked all without you having to lift a finger.
Are you ready to hire an organizer for your move?
If you're moving and want to learn more about hiring a professional organizer, then check out our Move Management Services today. Already know you want the help? Great. Click here to book a consultation.