Professional Organizer OKC
Looking for an OKC Professional Organizer?
Check out our most popular, all-inclusive service!
Have a Pro help you step by step to achieve the results you are wanting in your home. From decluttering and organizing to setting up organizational solutions to help you maintain order in your home, we are here to help.
Hourly Packages (1 hr per Organizer on site)
$75/hour
Custom Packages Available*
| | |
| --- | --- |
| Bronze | 16 hrs - $1150 (save $50) |
| Silver | 40 hrs - $2800 (save $200) |
| Gold | 60 hrs - $4100 (save $400) |
| Platinum | 72 hrs - $4750 (save$650) |
Monthly Organization Subscriptions are available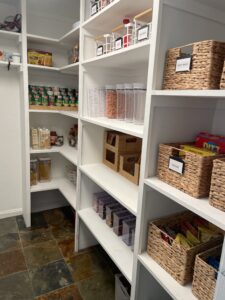 OKC Professional Organizing Clients
Here's what they have to say...
Audra was so great to come and help me organize several areas in my home. She was patient with me as we went through a ton of stuff from my attic and helped me decipher what was actually needed allowing me to get rid of a lot. It was so much easier to let go of things with her help and I was so grateful to have decreased our clutter and have a space that was so much more functional and easier to use. I will definitely be using her again!
Audra is dependable and fast. I'm very happy with the way she helped me get my kitchen organized. I seriously want her to help me with the rest of my house.
Audra with Pretty Neat: An Organizational Solution is amazing! Realizing I needed to quit putting off getting organized for the purpose of keeping my sanity and reducing stress in my life made me fully aware that I needed help! Her service was invaluable to me! Definitely worth every penny. She helped get things organized in my master bedroom closet and bathroom, and then even took my donation items away for me and brought back the donation receipt in our next session! She was sweet, helpful, none-judgmental of my mess, and I would highly recommend her to anyone looking for a professional organizer! I will definitely be using her in other areas of my house in the future! Thank you so much Audra!
I was very apprehensive about letting someone into my bedroom to help me declutter. We discussed my needs so she knew what i wanted. I set the date and welcomed her in. She made me so comfortable from the moment she walked into my bedroom. She started right away and made it seem so simple as we worked our way from one side of the room to the other. We finished in the time i asked for and it was a beautiful transformation. I never dreamed it would be so fun or seem so easy!