Winter to Summer Closet Transition
When those first truly warm days finally roll around after a long, cold winter, the last thing you want to do is stare at a closet full of thick, warm sweaters and cardigans.
Summer is a time for bright colors, lighter clothing, and a fresh, new wardrobe. But how do you successfully take your closet from winter to summer without ending up with a giant mess to deal with when it's time to change it back?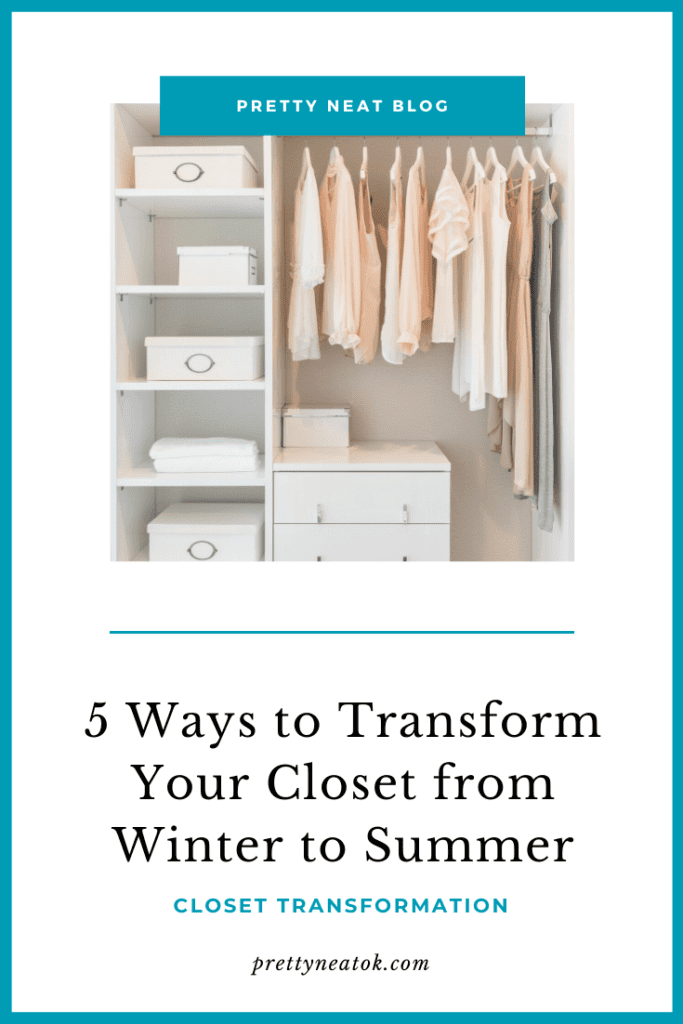 Here are our top 5 ways to transform your closet from winter to summer while being as efficient and organized as possible.
1. Store Those Warm, Bulky Layers
Whether you live in a climate that goes straight from winter to summer or one that has an unpredictable spring, one thing is for certain, you aren't going to need those big, bulky layers anymore. Take a look in your closet at all the clothing items (including accessories and shoes!) that are winter-specific. That super-warm turtleneck, those fleece-lined leggings, and your stash of scarves and hats can all be folded up and stored neatly inside a storage tote for next year.
2. Keep Some Transitional Pieces Out
As you're going through your winter clothes, be mindful of the layers that you may still need. If you know that there will be some cooler days or evenings here and there and you may still want to throw on a light cardigan or long-sleeved shirt, avoid packing those away. What you don't want to do is store away your winter apparel only to realize you jumped the gun and still need a warmer layer or two.
3. Purge The Items You No Longer Wear
If you're knee-deep in your closet, pulling out clothing that you didn't wear all winter long or haven't worn in years – get rid of them. There's no sense in hanging on to clothing that you're never going to wear again, all that does is take up more space in your storage bin. Instead, part ways with the clothing that you never wear or that doesn't fit. Bring it to a local clothing drop off or sell it to a consignment shop.
4. Color Code Your Summer Clothes Before Installing Them In Your Closet
Your brightly colored summer clothing looks even better when you organize it by color in your closet. It's also a great way to know what you own and help prevent yourself from buying another white blouse when you have several already. By organizing your closet by color, you can be more efficient in dressing yourself each day, not to mention, your closet will look great, too!
5. Add Some Bright, Fun Hangers
Speaking of your closet looking great, as part of your closet transformation from winter to summer, consider switching out your hangers, too. Trade-in those drab blacks and greys for bright pinks, yellows, or blues. New hangers are an easy and affordable way to change up the whole look and feel of your closet.
As the weather gets warmer and the days get longer, your wardrobe will inevitably change. By keeping these 5 tips in mind as you transition your closet from winter to spring, you can achieve a bright, efficient closet that sets the tone for an amazing summer season!
Not ready to take on your closet alone? Contact us so we can do it all for you!