Decluttering: Where to Donate Clothes OKC
Donating unwanted clothes and household items is an easy way to declutter and feel good knowing those items may bring joy to others in need. In Oklahoma City, many great organizations accept gently used donations to help fund their important missions.
Whether you have work clothes, casual wear, shoes, or accessories, the items you no longer want or need can make a positive impact when donated to local charities and thrift stores.
Here are the best places where you can donate clothes in OKC.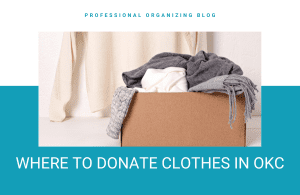 1. Second Chances Thrift Store
Since 1995, Second Chances Thrift Store has allowed people to donate their used and unwanted clothing. Located in northwest Oklahoma City, this store is run by the Salvation Army and is an extension of its broader mission to serve those in need.
All proceeds from clothing sales go directly toward funding the Salvation Army's social service programs which provide food, shelter, rehabilitation services, and youth programs. Donating your clothing to Second Chances helps them continue transforming lives in Oklahoma communities.
They accept donations of clothing, shoes, bedding, linens, purses, belts, and other accessories in good condition. Just drop off your bags of clothes during their business hours, and know your donation will be put to good use.
The HOPE Center is committed to transforming lives in the Edmond area through multiple critical programs and services. It relies on donated items to stock its resale store, which helps fund its charitable work.
Donating your clothes to the HOPE Center supports Edmond residents through programs for people without homes, youth mentoring, addiction recovery support, foster care services, food assistance, and more. They accept clean, gently used clothing, shoes, accessories, bedding, towels, purses, backpacks, and blankets.
The HOPE Center's resale store, Hope Thrift Shop, offers affordable clothes and home items that generate revenue for their life-transforming programs. Donate your unwanted clothing to the Hope Thrift Shop and give hope to families in the Edmond community.
Habitat for Humanity ReStore locations across Oklahoma accepts a wide range of clothing donations to fund their work in building affordable homes for those in need. Proceeds from the sale of donated items fund land purchases, construction, home repairs, and other Habitat programs.
Their goal is to help eliminate poverty housing across the state. Clothing donations to ReStores help stock their thrift shops and provide Habitat with essential funds to build homes and transform lives. Clothes should be free of holes, stains, and tears to be accepted.
Popular items include dresses, shirts, pants, shoes, boots, belts, coats, sheets, towels, and more. Donate the clothing you no longer wear or need to a local Habitat ReStore and help provide shelter for Oklahoma families.
4. The Salvation Army Family Store
The Salvation Army operates over 7,500 thrift stores nationwide, helping fund services for those in need. The stores are sustainably operated and provide an eco-friendly way to donate clothing. The Salvation Army Family Store in Oklahoma City accepts donations of gently worn clothing, footwear, linens, and accessories.
All proceeds from the store go towards funding The Salvation Army's programs to feed people, shelter people without homes, provide addiction treatment and financial assistance, and more. Donating your pre-loved items is an easy way to sustain good works in your local community.
5. Clothing Pickup Oklahoma City
If you don't feel like making the trip to a donation center? Clothing Pickup Oklahoma City will pick up your pre-loved clothing and shoes directly from your home or office, free of charge. They partner with local thrift stores and charities like Jesus House, Oklahoma City Rescue Mission, and Salvation Army to ensure your donations support those in need within the community.
They accept all clothing, shoes, and accessories for men, women, and children. Once your donation is picked up, you'll receive an itemized receipt for tax purposes.  By scheduling a clothing pickup, you can declutter and donate from the convenience of your home while supporting organizations working to provide relief for people without homes, those experiencing poverty, and others who are disadvantaged.
6. Oklahoma City Rescue Mission
This mission relies solely on community donations to provide vital services like shelter, food, clothing, medical care, job training, counseling, and more to Oklahoma's most vulnerable residents.
They accept clothing donations year-round at their donation center to supply thrift stores and programs that assist those recovering from homelessness or addiction. The mission accepts all types of clean clothing as well as accessories, linen, and shoes in good condition.
Donating your clothing is a simple way to give directly to those in need in the Oklahoma City community. All proceeds from the thrift store go towards funding the Rescue Mission's life-changing programs.
Jesus House relies on community donations to provide basic needs like food, clothing, shelter, and medical services to Oklahoma City's homeless and working poor. They accept clothing donations at their care center to supply free clothing, pantry, and programs that assist those recovering from homelessness, addiction, or abuse.
The center accepts all types of clean clothing, including coats, shoes, accessories, and linens. By donating your gently-used clothes to Jesus House, you're helping clothe and empower individuals and families working to rebuild their lives and regain self-sufficiency.
Your donations support Jesus House's mission of breaking the cycle of homelessness and poverty through compassion, faith, and opportunity.
Donating unused clothes is an excellent way to declutter while helping those in need. Many worthy organizations in the Oklahoma City area will gladly accept your gently-used apparel donations.
By donating your unwanted items, you can bring joy to those who find treasure in used goods. You also help support the vital work of organizations that provide job training, fund rehabilitation programs, and assist people experiencing homelessness or poverty. Even the smallest donation makes a difference.  
But decluttering doesn't have to be complicated. If sorting through closets and deciding what to keep or not feels overwhelming, consider Pretty Neat. Our expert organizers and consultants can help declutter your home and put a lasting system in place. We assist with everything from wardrobe edits to full home organizational makeovers and multi-estate downsizing. Get started now and transform your home into a peaceful oasis!